X10 Wireless Mouse Remote Model UR86A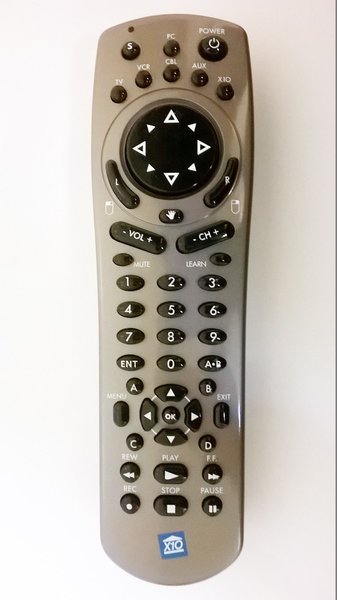 X10 Wireless Mouse Remote Model UR86A
The UR86A remote control works with the wireless USB receiver (CM19A) or VGA Video Sender (VT37A). You install software for it from X10's Web Site. The remote control sends wireless RF signals
to the CM19A or VT37A which is connected to the USB port on your PC. This lets you use the remote as a wireless mouse. You use the mouse pad on the remote to move the cursor around the PC
screen, and use the left and right mouse buttons just like you would on a regular mouse. There is also a "Drag" button that acts like you are clicking and holding the left mouse button. It's that simple!
The MouseRemote also lets you configure the
remote's special function buttons. You can configure these buttons to perform special functions such as launching your WEB Browser, for example.
Universal Remote....
You can use the MouseRemote as a Universal Remote, to control most audio/ video products. Control your TV, VCR, Cable Box, Satellite Receiver, etc., all from the same convenient and easy to use
remote.
Make your lights and appliances go to work for you....
The X10 MouseRemote controls most or all of your video and audio equipment. But what really sets it apart from other universal remotes is that you can also control almost any light or appliance in your home - even in another room! And it's easy to install. Within minutes, you can be using your X10 MouseRemote to dim the lights, start brewing a fresh pot of coffee and play your favorite movie!

Reviews