Multi-Angle Wireless Bluetooth Keyboard Case Cover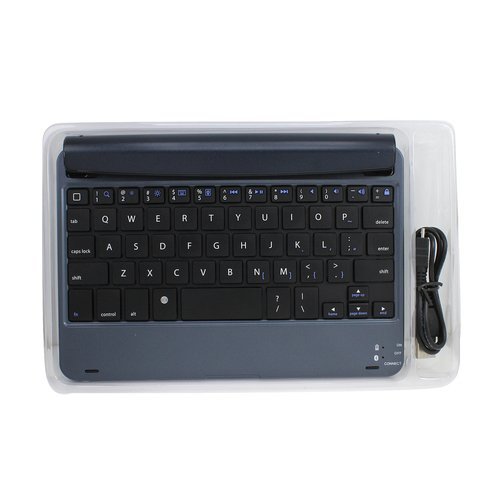 Multi-Angle Wireless Bluetooth Keyboard Case Cover
Bluetooth 3.0 compatible
Ultra-thin design (0.3")
Auto sleep mode
Wireless operations and keys those are specific to your I pad Mini
Light weight design (0.5) lbs
Compatible with Android and I pad
Color- Purple


The Ultra Thin Bluetooth Keyboard can be used as a Bluetooth keyboard iPad accessory for the full-size versions of the iPad 2, 3 or 4.
The keyboard syncs with your tablet via Bluetooth technology, so you don't have to download an app or attach a cord to begin using the keyboard.
The iPad Bluetooth keyboard is a full QWERTY keyboard that you can type on just as easily as you can a laptop or desktop computer keyboard.
With its magnetic fastener, the Apple Bluetooth keyboard attaches securely to the iPad for easy pairing. At 7.5 inches in width by 9.5 inches in length by .5 inch in depth, the Ultra Thin Bluetooth Keyboard was made for life on the go.
The iPad Bluetooth keyboard is powered by a rechargeable lithium-ion battery, so you never have to worry about plugging it into a wall outlet or carrying spare disposable batteries with you on the go.
When it comes time to recharge, you can get the Apple Bluetooth keyboard re powered simply by connecting it to your computer with the included USB cable.
Durably crafted to stand up to frequent use on the go.
Stop struggling to use that on-screen keyboard and enjoy the full functionality of your iPad without any hassles.

Reviews